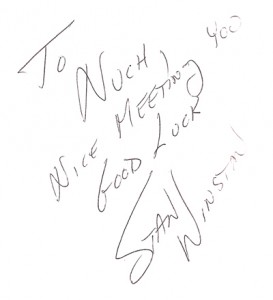 Once upon a time, there was a naive girl who knew nothing about the world of monsters. The naive girl was on the adventure of meeting creature. Fortunately, she met a great man who was famous for making creature.
At first, the naive girl couldn't recognized him. She noticed there were lots of people delightedly lined up in order to talk to him. The naive girl was pushed to lined up as well. She noticed people around her were holding photo books, dvds,… of the monsters which were her favorite characters. However, she had nothing in her hand except her sketch book which was always with her most of the times.
When it came to her turns, the great man asked her what her name was and where she came from.
The naive girl excitedly replied… However,… she was new to this world. She was unable the speak the language of this world correctly especially when she was so excited.
She told the great man her name, where she was from, and why she came here. She ended her reply with the phrase; "I want to be you".
The great man chuckled, and replied; "Yes, you can".
Then the great man signed his name on her sketch book, and gave her a warm shakehand.
Later, the naive girl learnt that the great man was the one who created most of her favorite monsters. She was so embarassed by saying such a wrong grammar and by comparing herself to the great man. However, she was encouraged to go on her dream by the great man's word.
Now, the great man is gone forever. The naive girl is still lost in following her dream. The naive girl is wondering if the great man's word can become true. Anyway, when the naive girl thinks of the day she met the great man, she is cheered up to accomplish his word. She also wants to keep her word. The naive girl is still struggling. Although she might still be lost, she believes she can get out soon. With the impression of meeting the great man, she believes she's still capable to fix her dream.
P.S. In memory of Stan Winston